This is a summary of our lap of Oz in 2011.
Our 2011 sojourn was to visit our boys on the Gold Coast via Perth.
We were away for approx 6 months, we are living our Dream.
See the maps below for where we travelled.

A brief summary of our latest trip:
Melb - Nullarbor - WA Coast - Katherine - Rockhampton
- Dicky Beach - Southport - Melb.
Total distance travelled (towing the van and without van): 23,197 kms used 3,644 litres.
Diesel highest price at Renner Springs,NT $2.059 lowest price at Southport $1.439
Distance travelled towing the van: 15,817 kms averaged 18.3 litre per 100kms or 5.5 km per litre.
Distance travelled without van: 7,380 kms averaged 10.2 litre per 100kms or 9.8 km per litre.
Total Diesel Expenses: $6,371.86


Away for 180 nights staying in Caravan Parks every night, except ONE night at Robe River, WA.
Total Caravan Park Expenses: $5,879.85 ave $32.67 per night.


I took 6,719 digital photos. I fluked the odd good shot.
*2011 - For full listing of our Daily Adventures.
Click on *2011 - Daily Index page* link below.
Our completed 2011 route.

For further info - Click on Yellow Name box
To return back to the Map - Click on 'Back' button.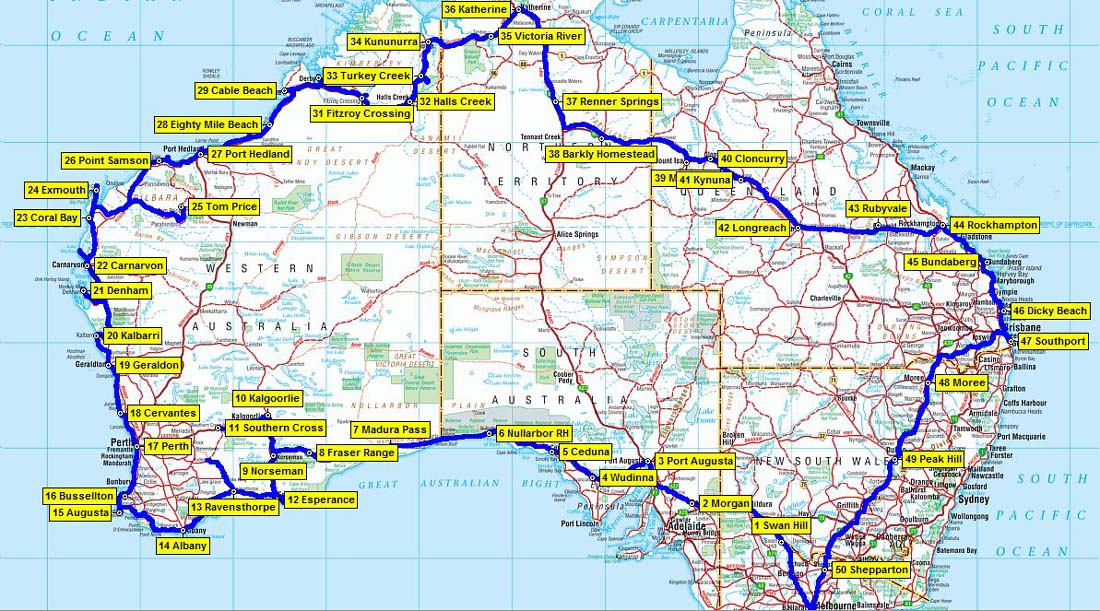 Some of our favorite photos.