This map covers our shakedown trip from
GC to Blue Gem TP to Charleville to GC.
13th to 31st July 2021.

9th August 2021, we sold our Fiver.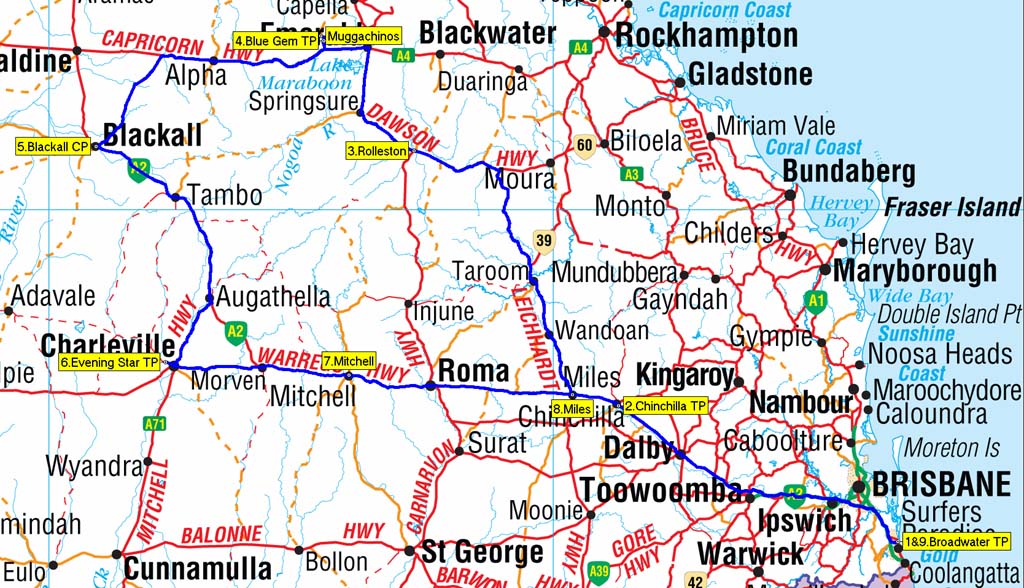 Photo highlights of our last Caravanning Adventure - 2021 trip.
After 3 years in storage, the Fiver was a tad dirty.
The AFTER PHOTOS
At Broadwater Tourist Park.
Started our trip
Heading up through Toowoomba Range.
Overnighter at Chinchilla TP.
Overnighter at Rolleston CP.
Arrived at Sapphire for a week.
Coffee and Strudel at Muggachinno's, Rubyvale
owned by Gunter and Nola.
Life at Blue Gem TP.
Leaving Sapphire and an overnighter at Blackall CP.
Leaving Blackall and staying at Evening Star TP, Charleville.
Leaving Evening Star TP and an overnighter at Major Mitchell CP.
Leaving Mitchell and an overnighter at Miles Crossroads CP.
Leaving Miles and going directly to Broadwater TP, due to Lockdown starting at 4pm.
Monday 9th August
Delivering our Fiver to the new owner on the Sunshine Coast.
The End of our 14 year Caravanning Adventures.
Sad but Life goes on.