Wednesday 4th May
Day 34 - Car Service and Whale World.
Weather: Started cool and currently sunny and warm.
Wind: Calm.
Another cool night, but I was warm using my sleepingbag as a blanket.
I was up at 6am, showered and ready to go to the Nissan dealer, but I was early. Shock, horror, I was too early, so I was on the Internet and left camp at 7:30 and arrived at the dealer at 7:35am and sat in the 'lounge area' and updated this website on my laptop. Service complete no unforeseen dramas with the mighty Navara, $339 later, I am out of there.
First port of call was Repco, where I purchased a box of light globes for our fiver costing $5 for 10 globes. While at Repco, I mentioned to Brett the salesguy, is there anywhere that will repair my flat hose, he suggested a Bearings place on the other side of town. I get to the Bearings place and the guy put a stainless steel hose clamp on it. I didn't even think of a hose clamp, anyway all fixed. So it was a very successful morning.
This arvo, we are off to the Whale World.
Well, Whaleworld must be the best attraction that I have visited in all our travels, I loved it. The guided tour was so imteresting, David our guide took us through the whole process of dragging the whales up the ramp and then cutting them up into manageable pieces and extracting the oil and using all the bits of the whale, bones and flesh. The whale chaser Cheynes IV was extremely interesting to walk all over it, being tall, I couldn't work on the boat, it would be too uncomfortable.
Whaleworld is very near the end of the southern part of King George Sound, consequently, after leaving Whaleworld, we drove up all the roads leading off the main road (Frenchman's Bay road), this lead us to the cliffs above some beautiful beaches and to the blowholes. At the blowholes I walked the 800meters down the cliff to the blowholes, as the ocean was calm, the blowholes weren't working, but every now and then they would grumble but no water spurts. Bastards.
I also had to walk all the way BACK UP the bloody cliffs, I was rooted. Marg sat up the top of the cliffs and waited for me. We eventually arrived back at camp in the dark about 5:45pm.
Thursday 5th May
Day 35 - Day trip to the Valley of the Giants - Tree Top walk.
Weather: Started off overcast and then pissed down at the Valley of the Giants. Probably got to about 20&degs.
Wind: Calm.
It was a cool night. Slept until approx 6:30am, and got up showered and on the internet. It was our driving day, so as I was waiting for Marg to get ready, I drove into downtown Albany looking for the Pathology centre, as I have to do my 6 monthly blood test. I found it and at 9am there were about 10 people waiting, so I will get my blood test there tomorrow.
Back at camp, Marg was ready, so we were off to the Valley of the Giants, via Denmark. The town NOT the country. Stupid.
We drove along the scenic drive to Denmark, but as it was raining, the scenic views were replaced with misty rain clouds. We arrived at Denmark and went cacheing, we found it near the canoeing shed on the banks of the river. Continuing on to the Valley of the Giants, the rain was getting heavier. We parked and there were about 10 cars already there. We forgot our ponchos, but I did have some large black plastic bags in the back of the mighty Navara, which Marg used, I had my yellow raincoat in the backseat. We walked the tree top walk in the rain, it was still amazing, but the rain kept my photos down to about 3.
Marg had decided that on today's drive, we would visit the Toffee shop, Honey shop, Chocolate shop, Wood galley and the Alpacas farm. As it was raining, we gave the Alpacas a miss and also missed the Wood gallery. The toffee shop was lovely and very friendly staff, we spent a couple of dollars there (over $50). The Honey shop was good, I had a honey and chocolate ice cream. Very yumma. The Chocolate shop specialised in Swiss chocloate and a tiny bit was $3 each, we walked out. Lunch was at the Denmark Pie shop come bakery. 2.5 homemade pies later, I finished Marg's leftovers, we left Denmark and headed back to camp. We spent the rest of the day/night on the Internet and watching satellite TV.
Another magic day, the rain did not dampen our enjoyment.
Tomorrow
may be a quietish day. Starting with my blood test.
Friday 6th May
Day 36 - A quietish day in Albany.
Weather: Overcast with some drizzle and some sunny patches.
Wind: Calm.
It was another cool night, but had my sleepingbag as a blanket and slept like a baby. Well maybe not a baby. Woke a bit after 6am, laid in bed listening to my radio through the headphones, it would be a feat worse than death, if I accidentally woke Marg. Got up and showered by 7am.
The Pathology centre opens at 8:30am, so I got there at 8:25am and they were opened, I expected a wait, so I took myKindle with me, currently reading the life story of Karen Carpenter from "The Carpenters", just started and it is rivetting. Anyway, I digress, walked into pathology, expecting a queue, I was it.
It never ceases to amaze me, the vampire, aka pathology technician, lived in Mordialloc for 2 years in the late 70s. Bloody small world. While I was at the centre, I also weighed myself as I haven't weighed myself since leaving home. It's a bit of a worry, when the scales go to 115kgs and I go off the dial. Not by much, so I am happy.
Back at camp, Marg is in a cleaning mood, so I let her go, while she was cleaning, I replaced the van's 7 pin plug. Tested and all working well. I still have to replace the socket as one of the pin is suss. I probably will do that in Perth.
We went to the Mt Clarence lookout and then did some shopping and spent the rest of the arvo, just relaxing.
Weather: Started off overcast and had some sunny patches during the day.
Wind: Calm
Daily distance travelled with fiver: 366 kms. Total towed this trip: 4.659 kms.
Next G Mobile reception at Augusta: Yes
Next G 'Blue Toaster' reception without external aerial: Yes
Next G Telstra WiFi Modem reception: Yes
We left Albany at 8:30am and arrived at Augusta just after 2:30pm. We stopped at Walpole to find a cache at the Bobtail machinery and after crawling all over it, we couldn't find the cache. Bugger..
Our next planned stop was at Pemberton, where there was a cache in the local park. As we drove into Pemberton, there was more traffic than I expected, as it turns out it was the Autumn Day parade, which closed the whole of the main street and all Pemberton was there. There were detours, so here we are towing the van through various detours, consequently, we didn't stop at the park to look for the cache. Luckily, there was a very nice Rest Area just through town, where we turn right for Nannup, so we stopped and had lunch, waatching the cattle in the surrounding paddocks. A very nice spot.
Today's drive probably was the most physical, as most of the drive was through the forests and I hadtgo concentrate more than usual. BUT the scenery was magic, those Karri tree (i think they were Karri) were bloody huge.

We arrived at Turner CP and found our site, next door to Rod and Pam, who have a larger 'Wildcat' 5th wheeler. It is a small world, yet again, it turns out that Rod used to sail Corsairs during the early 70s at Frankston YC and that our paths had probably crossed at various stages then. Rod and Pam are a lovely couple and had lived in Perth for the past 37 years.
Late afternoon, Marg and I walked upto the local Fish and Chip shop which is about 400 meters from our site. The food was yumma, but a little dearer than in Melbourne, eg: Flake in melb is $6, here it is $10:50 for a smaller piece, but still yumma.



We had a quiet night.
Sunday 8th May
Day 38 - Cape Leeuwin Lighthouse.
Weather: Started cool and stayed that way. It was long jeans and top day.
Wind: At Cape Leeuwin, it was blowing a gale, at camp it was calm. Go figure.
Another cool night, but I was warm using my sleepingbag as a blanket.
We left camp about 10am for the Cape Leeuwin Lighthouse, it was only 10 minutes down the road. First port of call was the Augusta Tourist Centre where we purchased the Ultimate pass (lighthouse tour aand 3 caves) for $60 each.
We arrived at the lighthouse carpark, there were about 8 cars already there. I booked myself in for the 11am tour as Marg didn't want to do it. The first thing I noticed was the wind, it was a good 20-30kph from the NW. We walked towards the lighthouse and checked out the various plaques on the way, taking photos as we go. Time for the tour, there were 4 of us including our guide (James), 2 women and me. We walked the 176 steps to the top of the lighthouse with James giving us various info about the lighthouse, ship wrecks (23), maximum wind speed (160kph the gauge doesn't go any higher), 104ft to the balcony. Walking around the balcony 104ft up, was a little weird but the views were great. See the photos.
After the tour, I met Marg back at the car and we then went cache hunting, which was about 300 meters from the car park. While we were walking to the GPS point, we noticed a couple that appeared to be doing the same thing. As it turns out they were, we introduced ourselves and the couple (Bob and Marsha were from Arizona,US) were here for 2 weeks holiday and have being caching between Monkey Mia and Augusta. We both found the cache and went our separate ways.
We then drove to Hamelyn Bay to look for another cache, which we couldn't find. By this time,we were too late to visit the Jewel Cave, so we headed back to camp. We spent a good hour chatting to our neighbours (Allan travelling solo, Rod and Pam - travelling in a Wildcat fiver and Bruce who has a Cruiser fiver), a couple of chilled refreshers were consumed by me, so it was a good time. Rod also gave me some Caravan Parks to stop at on the way north.
Monday 9th May
Day 39 - Visiting Jewel and Lake caves.
Weather: Started off overcast and stayed that way all day.
Wind: Calm.
Another cool night, but I was warm using my sleepingbag as a blanket.
We left camp about 11am for the Jewel Cave, it was only 10 minutes down the road. as we were nearly there, I remembered that I had left my 2 spare camera batteries back at camp, so we turned around and returned to camp and got them. We still made it in time for the guided tour. The stairs are a killer but it was all worth while. The views in the cave were excellent.
Next port of call was the Lake Cave and it was located at the bottom of a sinkhole about 200 steps down, but more importantly about 200 steps UP. Again it was great. After the tour and after we eventually got back to the top, we went into the cafe next door and had lunch.
Back at camp, we had a new neighbour who now blocks our satellite disc, with all the neighbours watching I moved it to a new location and it now is working again, so we are all happy campers again. So we all sat down and had a very pleasant happy 1.5 hours. There were Bruce, Allan, Rod and Pam all from last night and our new neighbour Keith and Glenda.
Marg and I watched a few episodes of House.
Tuesday 10th May
Day 40 - River cruise and Mammoth cave.
Weather: Sunny reached approx 20&deg.
Wind: Calm.
It was another cool night, I was prepared for it.
Last night at our 'happy hour', the 5 of us decided to do the river cruise this morning, subject to suitable weather. Well, the weather was suitable so we all arrived at the pier about 10:20am and spoke to Jan the skipper, tour guide, you name it, Jan was it. There were a total of 10 of us on today's cruise, I was 2nd mate which involved untying the rope and casting off. I could handle that. We cruised up the Blackwood river for a number of kilometers then turned around and headed back to camp. It took approx 2 hours and was great, there were heaps of 'Georges' and other birds, the dolphins didn't show for our cruise. bastards.
Back at the pier, Marg and I headed off to the Mammoth cave. This was the best cave as it is self-guided and consequently, we could take our time, which we did. Back at camp, we had another happy hour with Rod, Pam and Allan, until we all departed to our vans, as it got bloody cold. As we are only driving 89 kms tomorrow, I have decided to pack in the morning, as we are trying to leave about 10am.
Another normal night watching satellite TV.
Weather: Started off overcast and had some sunny patches during the day.
Wind: 10kph W
Daily distance travelled with fiver: 89 kms. Total towed this trip: 4.748 kms.
Next G Mobile reception at Busselton: Yes
Next G 'Blue Toaster' reception without external aerial: Yes
Next G Telstra WiFi Modem reception: No.
We left Augusta at 9:50am and arrived at Busselton at 11:15am, the drive was uneventful which is always good. We setup camp and then headed to the Busselton jetty for another item on my 'Bucket List' or on my 'Want to do List'. Whichever list, the jetty was awesome. It is 1.841km long with an underwater observatory which goes 8 meters under water. Our $28 per person ticket included the train trip to and from the end of the pier and also the guided tour of the underwater observatory. After the observatory, Marg and I decided to walk back to shore, as the weather was sunny, warm with a slight beeze from behind us, so the walk was just beautiful. We visited the souvenir shop and I bought a Busselton jetty stubby holder.
The restaurant near the pier had a cache, so picture this. Two old farts crawling around on the ground looking at the stairs, we didn't find the cache. On the way back to the mighty Navara, we stopped at the ice cream shop $24 later, I had a 3 scoop sundae, Marg had a 1 scoop sundae and 2 soft drinks. There was also another cache down near the Busselton Yacht Club, we found that one. Finally, got back to camp and had a quiet night watching House.
Eagle's Heritage and Margaret River Surf beach.
Weather: Started cool and sunny and warmed up to a great day in the low 20&degs.
Wind: Calm.
It is still cool to cold at night, but I was warm using my sleepingbag as a blanket.
We left camp about 9:00am so we would be at Eagle's Heritage for its 11am Bird display. We arrived about 10:15am which allowed us to walk around and view all the displays before the bird display. There were heaps of different owls, kites, sea eagles and a beautifl wedge-tailed eagle. The display was good, the birdman had a kite on his arm, which he allowed the visitors to have it sit on thier arms. Marg was one and said that the kite was heavier than she expected it to be. We left Eagle's Heritage and headed into downtown Margaret River. First stop was the Fudge shop, $60 later we left, next stop was the Post office, I had to send a $100 money order to Cable Beach CP to book our site. We didn't walk the main street, as we wanted to head to the famous Margaret River Surf beach. But first, we were told to visit Voyager Estate winery, so we did, it was awesome, we walked around the winery but didn't buy anything. We finally arrived at the surf beach, there were at least 40 surfers in the water and the carpark was packed. The swell was magnificent, up to 9 feet and the surfers were rapt. Next stop was at Dunsborough for a quick shop, then back to camp.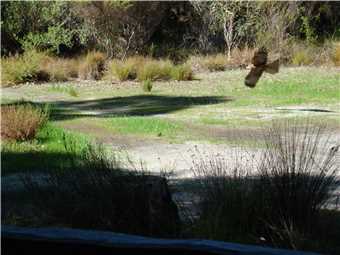 One of the Kites in flight at the display.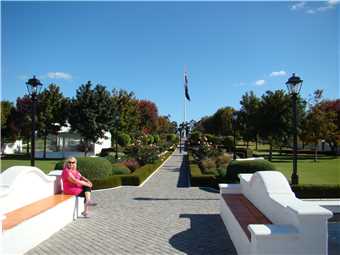 Marg at Voyager Estate winery. Beautiful gardens.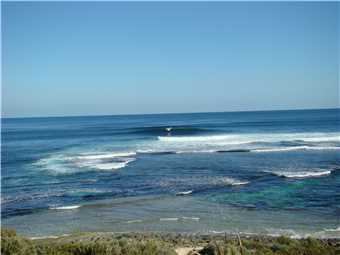 Beautiful surf at Margaret River.