Wed 13th Aug. - D for Departure day from the Gold Coast

I was up and showered by 7am. The weather was high cloud and still cold, so it was time to head south and head for home.
As usual as I was packing up some guy wanders up and talks to me. He had a Nissan navara the same as ours. So we both said they are good trucks.
Eventually, we left the Broadwater TP about 9:20am and headed down the motorway for NSW.
First port of call was Byron Bay, because everytime that we drove past it we always said next time we will stop and see it, so today we did. Well, all there parking is angle parking, great when you have a 5th Wheeler on the back, I only blocked the whole road. nah only joking. So the only spot we could park was a dead end street near their football oval. So we decided to drive to the lighthouse, well as we were on the lighthouse road, there was a sign saying No caravans past this point, so you can stick Byron Bay, it is NOT caravan friendly, so stuff em.
We decided to stick to the old Pacific highway and drive to Lennox Head, this was a lovely little town right on the beach, and we could park our rig behind the shops. We decided to continue onto Ballina because we have to go through Ballina then onto Lismore and finally into Casino.
Arrived at the Casino Village at Casino which is or was associated with the CMCA (Campervan and Motorhome Club of Australia) which we are members of. The Casino Village is brilliant, it was the casino airport and converted into a Caravan park and also has pre built houses, it is excellent. Marg and I walked around the Village and were very impressed, then it was time to ease into the comfy recliner in the fiver and watched the Womens and Mens Time Trial.
Thu 14th Aug.

It was quite cold overnight in Casino, the outside temperature at 7am was minus 0.6.
We left Casino Village about 9:30am and went from Casino to Grafton, this road was quite and very good condition. At Grafton we stopped for Diesel and a break.
In Coffs Harbour, we decided to stay at Park Beach Holiday Park which is a very open park and just over the road from the beach, probably great if it was hot. The weather is still shorts and Tee shirt after a cold start. During the afternoon, we went to the Big Banana and had a banana split with chocolate topping. Bloody yummy.
Then drove to the marina and tried to find the motel that we stayed in back in 1981, I think we found it, but we both differ on which motel it is.

Tomorrow we are off to the Porpoise Pool for the 10am show and then in the afternoon, we will probably tough it out sitting the sun and you guessed it, I might read.
Fri 15th Aug.

It was quite cold overnight in Coffs, not as cold as at Casino.
We socialised with our neighbours this morning, the lady is a widow who has a villa unit in the next street and is moving into a beautiful top of the range Jayco van with 2 slideouts. The other neighbour comes from the Mornington peninsula and has a lovely Copper Canyon 29ft 5th Wheeler and Ford F350 tug. He only bought it in February, but someone approached him on the Sunshine Coast and wanted to buy it, so he sold it.
That reminds me, the people who we showed through our fiver on the Gold Coast wanted to buy our setup. This is not going to happen. We are enjoying this life too much.

We arrived at the Pet Porpoise Pool about 15 minutes before the show started. They advertise this park as the world's most interactive park, and it is true.
Where else can you touch the dolphins. Marg was in her element, she was kissed by dolphins and seals. How come that she will let a large, very bristly animal kiss her and she won't let me kiss her. Women......
During the show, they asked for volunteers to come down and feed a fish to the dolphins... Voomp. Marg was down and first on the deck. She loves it. I touched a dolphin as well, they have very smooth skin.
Apart from the dolphins and seals there were cockatoos, George may a guest appearance, some penguins... yes Marg fed them too, there was a Port Jackson shark... Yep, Marg fed that as well and still has all her fingers.
In summary, the Pet Porpoise Pool was a great hands on experience and this is what it has over the Seaworlds etc. The animal parks are all good in their own way. And we haven't finished yet, we expect to be at the Dubbo zoo on Tuesday, I will see if I can feed Marg to the lions. Nah, only joking. hehehehehehhe.

Weatherwise it is probably about 18 or 19, no breeze at all and a beautiful cloudless, blue, sunny.
Sat 16th Aug.

It is getting colder each night. Overnight in Coffs it got to zero outside.
We left Coffs about 9am on our way to visit Pat and Cheryl who own a 5th Wheeler similiar size to us and live at Stuarts Point about 90km south of Coffs.
It was great to meet Pat and Cheryl and see their 5th Wheeler, we had coffee and all of us shared our 'vast' 5th Wheeler experiences.
We left them about midday and proceeded towards the Oxley Hwy junction near Port Macquarie, where we filled up with diesel and had KFC for lunch. This is where the fun really started it was 161 kms from the junction to Walcha CP. This distance included crossing over the Great Divide Mountain range, to say it was windy was an understatement. I drove to the conditions and we arrived safely at Walcha CP at 4pm. The weather was starting to become overcast with a possibility of rain, at 5pm my outside temperature sensor displayed minus 0.6.
As I was speaking to Dad at 6:30pm, it was minus 2.6, so how cold will it be tonight, I will tell you tomorrow. If I don't die of cold.
Tomorrow we drive through Tamworth, Gunnedah to Coonabarabran for our overnighter.
Sun 17th Aug
Happy 31st Wedding Anniversary to my Darling Marg.

Enough of the lovey, dovey stuff.
As at 6:20am it is MINUS 5.5, now that is bloody cold in anyone's language. Even worse, I have to walk across and have a shower. Inside the van it is POSITIVE 2.2 and outside the mighty Navara has a coating of ice, the sky is cloudless and blue, but freezing.
I was warm as toast last night, in my tracky pants and top and sleeping bag, I only pulled on a blanket about 4:30am.

It is time to face the elements and have a shower. Wish me luck, if there are no more additions to this website, you know that I have frozen to death in the shower.
I am still alive, the amenities block is brand new, with heated floors, but it was still cool drying myself.
Today, we are off to Coonabarabran for our overnighter via Tamworth, Gunnedah and other places.
Compared to this time last night, it is downright tropical, we are at Coonabarabran and it is positive 3.6, very balmy.
Tomorrow we plan to stay at Leighton and Pauline's Peak Hill CP for 2 nights.
Mon 18th Aug.

As at 6:30am it is MINUS 2.1, still cold. Inside the van it was POSITIVE 4.7
I was warm as toast last night, in my tracky pants and top and sleeping bag, I again only pulled on a blanket about 5am.

We left camp about 9:05am and stopped at Gunnedah for a coffee and at Dubbo for another coffee and arrived at Leighton's Peak Hill CP at 12:10pm.
Setup camp and watched the Olympics on the box. It was a sunny afternoon, but still with a cool wind chill.
Leighton came around for a chat, but could only stop for a few minutes, before business called more caravanners arrived.

Marg and I are off to the Peak Hill RSL for dinner and pokies.
Marg lost her money but we had a lovely meal and a few chilled refreshers. It is looking like a very cold night.
Tomorrow we are off to the Dubbo zoo.
Tue 19th Aug.

I must be psychic, last night I said it is looking to be a very cold night. Well, at 6:30am it is MINUS 3.8. I am disappointed that Leighton didn't do something to warm up Peak Hill, afterall, he runs the town.
The weather, apart from a tad cold, is beautiful, cloudless, blue sky.
Marg and I are off to the Dubbo zoo, leaving here about 8:45am, the zoo opens at 9am.
Tonight, we will be back at the Peak Hill RSL for dinner and I bet Marg will hit the pokies again and I will have a chilled refresher or two watching the Olympics on the big screen. The above prediction was correct, dinner was lovely and the beer was cold, but we watched ch10 news not the Olympics.
Wed 20th Aug.

I was hot in bed last night and had to take off my socks and I also didn't need my blanket, but it was still minus 2.2 outside at 6:30am. The weather, apart from a tad cold, is beautiful, withsome high level cloud and no breeze.
While waiting for Marg to wake up, I washed the ice off the windscreen. We are off to West Wyalong today a leisurely 187kms. I hope to call in at a public weighbridge in Forbes, to weigh our total rig.
We were the last people to leave Leightons this morning and it was only 9:15am, second last to leave was the American 5th Wheeler from Mt Martha. We also emptied the shitter. At Forbes we found the weighbridge and our rig weighed in at 5.1 tonne.
Arrived at West Wyalong about 12:15pm and setup camp at the West Wyalong CP, what a lovely spacious CP. We would definitely stay here again.
Spent the afternoon on the internet and watching the Olympics on TV. The BMX was good.
Thu 21st Aug.

It was non cold night at West Wyalong, there was cloud cover, hence it wasn't as cold as the previous nights. At 6:45am it was positive 2.1, simply balmy.
As we left camp about 9am, I noticed another camper had locked their keys in their car, and were in the process of sticking a coathanger in the window.
We stopped at Narrandera for diesel and food supplies. Arrived at jerilderie about 12:45pm after stopping at a few rest stops along the way. Traffic was very light I pulled over three times to allow trucks that caught me to pass me. Gee, I am friendly and considerate.
We setup camp at Jerilderie Motel and Caravan Park, and then drove into town and checked it out. There is a lot of Ned Kelly stuff here. I went to the Bakery for a couple of pies. yumma..

The weather is currently sunny and cool, they are expecting rain tonight. Typical, getting closer to Melbourne.
Tomorrow, we head for Shepparton a 140 kms away. We will probably stay at Victoria Lake CP. I wonder if it has any water. Will see tomorrow.
Fri 22nd Aug.

Down to minus 0.9 at Jerilderie. The morning is a sunny crisp morning with a 10kt breeze, so there is a wind chill factor to consider.
I am showered and back in the fiver with the heater on connected the internet, awaiting my beautiful wife to awake from her slumber. (She snores like a chaff cutter).
We left Jerilderie about 9:15am and 140kms later and a few stops at Rest Areas, we arrived at Shepparton around 11:30am. We were going to stay at Victoria Lake CP, but after seeing that the lake had dried up, we continued onto Big4 Parklands on the outskirts of town.
This park is great, we were given an ensuite site because we are a Big 4 member, we didn't complain.
During the afternoon, we visited SPC factory and bought heaps of food.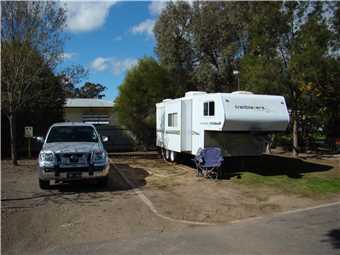 Us at big 4 Shepparton - Parklands.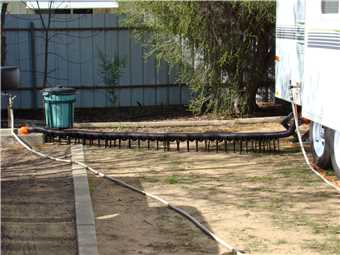 The centipede comes out at Shepp.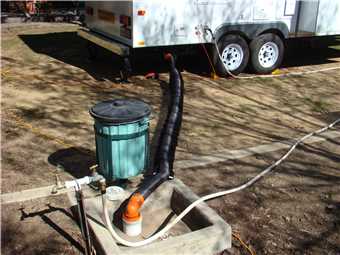 The centipede comes out at Shepp.
Sat 23rd Aug.

Chilling is the word.
Down to minus 3.8 at 7am in Shepp. The morning is a sunny cold morning with no breeze. It's just plain COLD.
I am showered and back in the fiver with the heater on and writing updating this website. There is snoring coming from the bed.
We have Christine, a former NAB work colleague, coming around about 10am for a chat and a coffee. Ray and Jan, from the 5th Wheeler forum are dropping in about 1pm to check out our fiver.
Christine has been and gone and it was lovely to catch up with her. Ray and Jan came and went and we discussed 5th wheelers, it was great to meet like minded people.
We bought a battery charger today from Autobarn, so when we get home I can recharge Marg's Mazda battery.

Tonight, Marg took me out to the Shepparton RSL for dinner, the parma was yumma.
Tomorrow we leave Shepp for home. A sad but happy time.
Sun 24th Aug. - We are Home.

We left Shepp about 8:15am.
The drive was eventful, there was a fatality on the Hume near Broadford, we were diverted through Broadford and Kilmore.

Called into Mum and Dad's for coffee, it was good to see them.

It is great to be home and it was great to be away.
We loved the trip immensely and can't wait to head off again.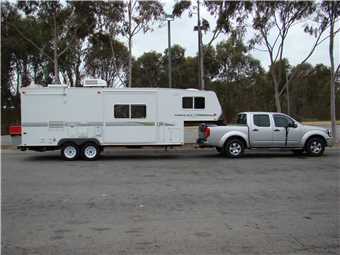 Us at Service Centre near Seymour.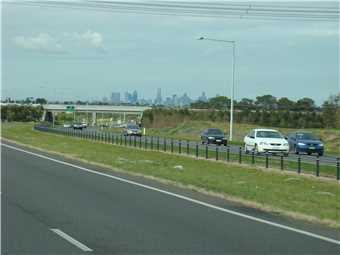 Coming into Melbourne. The views that make you feel happy.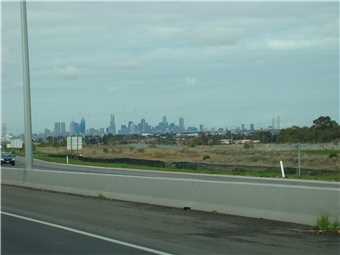 Coming into Melbourne. The views that make you feel happy.