What an exciting time it was getting the van! We went to the 2007 Melbourne Caravan show at Caulfield racecourse and viewed caravan after caravan after caravan. We finally settled on this one.
Trailblazers RV, Braeside, Vic 03 9588 0077.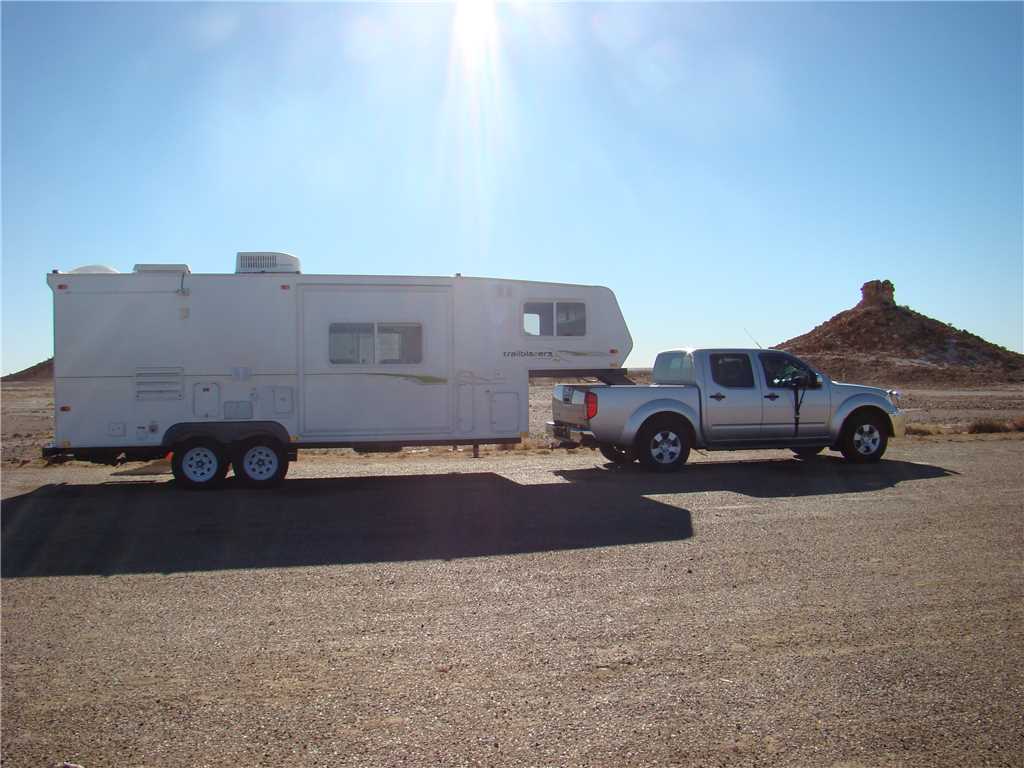 My favourite photo at a Rest Area, about 60kms North of Winton, Qld - 9th July 2008.
Some of the important items of our van are:


A cuckoo clock we bought at Tamborine Mountain overlooking the Gold Coast.
6 Lovely prints that we bought at Karanda, Cairns.
4 tropical fish prints that we also bought at Karanda.
The Telecommunications Hub (modem,wireless router, My Net Fone adapter, 2 x Satellite STB (Humax and Foxtel)
2 laptops - one laptop between two people doesn't work.
Slide-Out with Cafe Dining / Bed
Slide-Out with 2 Recliner chairs, very comfy, even for me as I am 6'4"
Plenty of space for the two of us.
BEDROOM:


Queen Bed
Bedside Tables
Wardrobes
Overhead Storage
Reading Lights
Privacy Curtains
240V Outlets
TV Point
KITCHEN:


3 Burner Gas with Grill plus 1 Electric hotplate
12V Range Hood
Convection Microwave
3 Way 186L Fridge / Freezer
Double Bowl Sink
Water Filter
Pantry
240V Outlets
Storage
DINING and LIVING:


Reverse Cycle Airconditioning
AM/FM/MP3 radio with 2 inside speakers and 2 outside speakers (very handy).
Reading Lights
Storage
15" TV, analogue, Digital, DVD combo, which also displays Satellite TV and a direct feed from my laptop.
Washing Machine
12 / 240V Power Converter with Battery Charger
12V Interior Lights
Gas, Smoke and CO2 Detectors
A vacuum cleaner, so we are mad.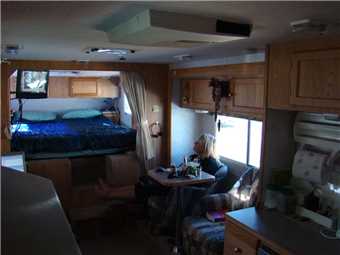 2008 - Marg in her seat. Laptop on her knee, watching TV.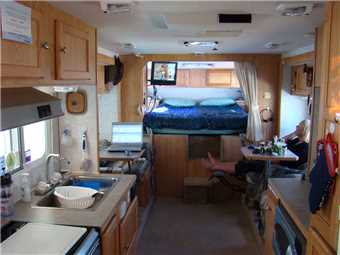 2008 - A spacious view.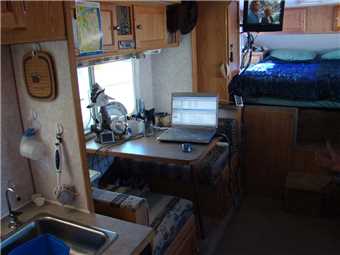 2008 - My laptop on the table, that is where I usually sit.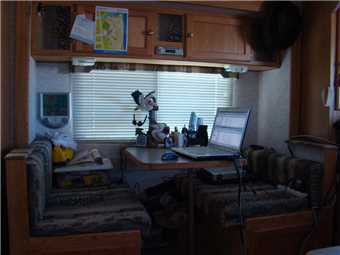 2008 - My work area. Notice George in the background.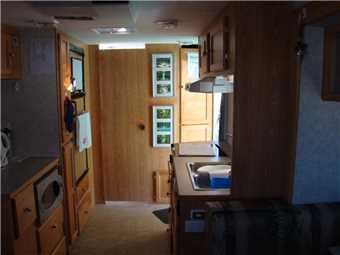 2008 - The Kitchen area.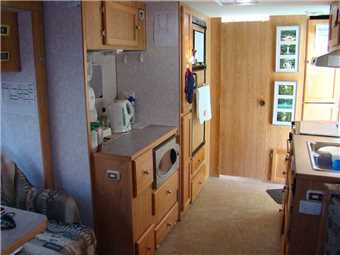 2008 - The fridge is behind the tea towel.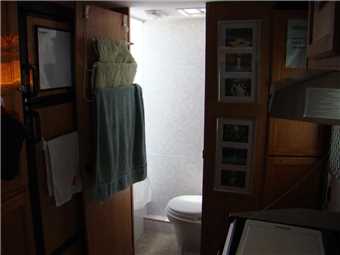 2008 - The bathroom. Shower is on the left.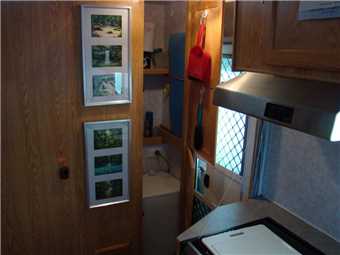 2008 - The Laundry. The washing machine has been brilliant.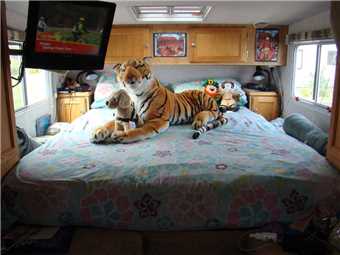 2010 - Tiny guarding Willy and our bedroom.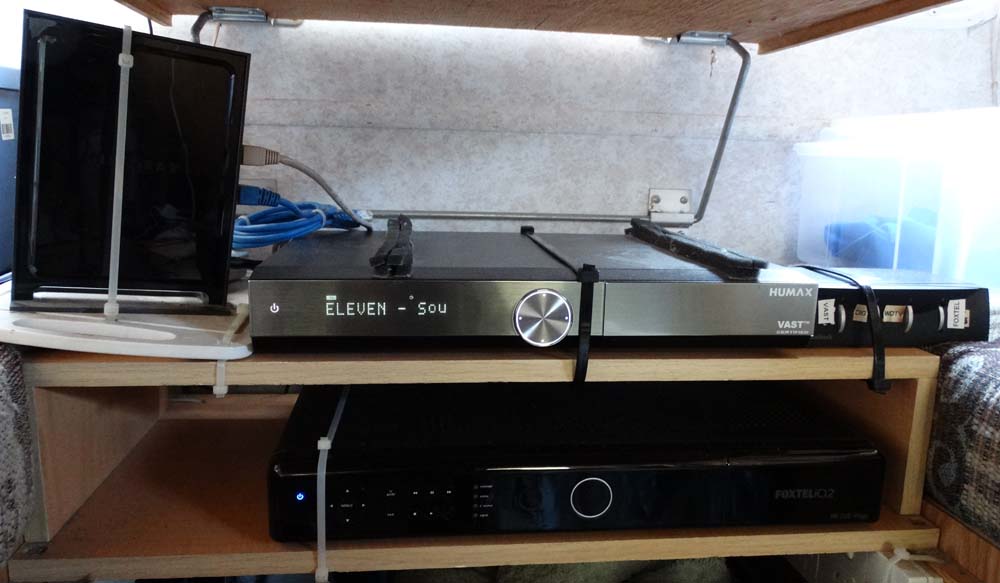 2014 model of the Telecommunication Hub
Top left: Netgear Route for phone
Top middle: Humax VAST STB
Top Row right: 4 way switch.
Bottom: Foxtel.
Exterior of our Van.


Awning
Hot Water Service
Town Water Inlet
240V Outlet
15m Power Cord
Outside Lights
12V Booster TV Aerial
2x 9Kg Gas Bottles
2x 100AmpH Deep Cycle Batteries
Spare Tyre
Electric Landing Gear
Rear Stabilisers
LED Lights
Torsion Suspension
Electric Brakes
Adjustable Hitch
Built in BBQ
Specifications:


Length 7400mm
Width + Awning 2300mm
Height + Aircon 3100mm
Fresh Water 150L
Grey Water 110L
Black Water 110L
Wheels 15" Rims
Black bag on the left usually stores our rocks we find while fossicking.
Along the back of the tray is our 60 litre Tote Tank (used to empty the shitter while staying for any length of time).
My 1m meter ladder and clothes line is on the right.
At the front is my shovel and tonneau for the ute. It is tied to the tray, because my original tonneau blow out while driving.
Only the satellite dish is missing, which lays on the floor between the hitch and tailgate.
The 2 white plastic jerry cans were used to carry water when fossicking.
Since this photo was taken, they blew out of the tray (they were tied in, but obviously, not real well).