Frosty's Fossicking Frolics

Yellowdine, WA - Fossicking for Quartz Crystals.
We buggered about camp until 9am ish, then left for the 40km drive to Heaney's Find Mine, where there is supposed to be quartz crystals. First off, Harry Hema showed Heaney's Find mine on Ozi Explorer and using Google earth, I loaded the latitude and longitude into Tom. So we had 2 GPSs, they worked well. I also double checked the directions with Kay from the Caravan office. All good, so away we go.

You want to end up at Heaney's Find Mine. -31.359400 119.701357.

Drive to the Yellowdine Roadhouse and the track starts about 100 meter East of the roadhouse at -31.295372 119.656837.
Follow the track for 4.84kms to location -31.337983 119.667065 and there should be a similar track on your left. This section of the track was wider than the next section. Take the track on the left for 4.23kms and you WILL end up on the edge of the lake at Heaney's Find Mine -31.359400 119.701357.

The last 4.23kms of track leading to Heaney's Find Mine is narrower in parts, my mighty Navara has some scratches on the passenger side from twigs on the edge of the track. The scratches hopefully will cut out. I hope so.
In wet weather, the track would only be suitable for 4WD vehicles.
In dry weather, I reckon that a normal Commodore would be able to get to Heaney's mine, without any problems. When you get to the Yellowdine Roadhouse, lower your tyre pressures, as the last 100 meters at Heaney's mine, is over sharp ish shale looking rocks, but not big, just sharp looking. That was the only hassle, I encountered. The track was dry and compacted sand when we drove it.

Now that you are here, the first thing that struck us, was there is quartz everywhere you look. There is a small hill which we are on, so I walked to the top and the summit is made of quartz with some topsoil supporting small vegetation. It is the first time that I have walked to the top of a hill and it consists of quartz. Very interesting.
When I was on top of the hill, I noticed that there was more quartz here than where we were and also that you could park your car there, so I drove around there. That's where we found all our large pieces. We filled about 3/4 of a Coles green shopping bag and left the site.

I think if you spent more time there and broke open some of the larger chunks, then you may find more crystals.
Marg and I were more than happy with what we found and took. Whether it is good or bad quartz, we like it and that is all that matters to us.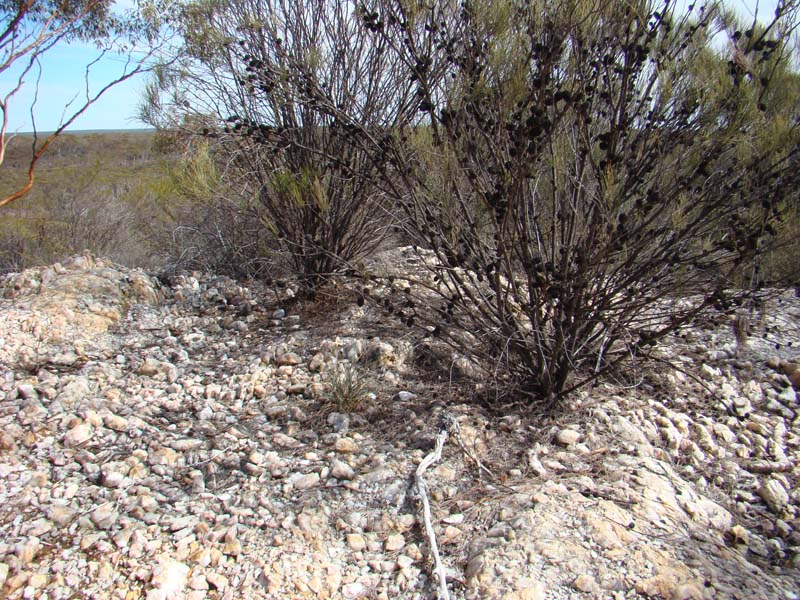 Even the top of the hills made of quartz with little soil.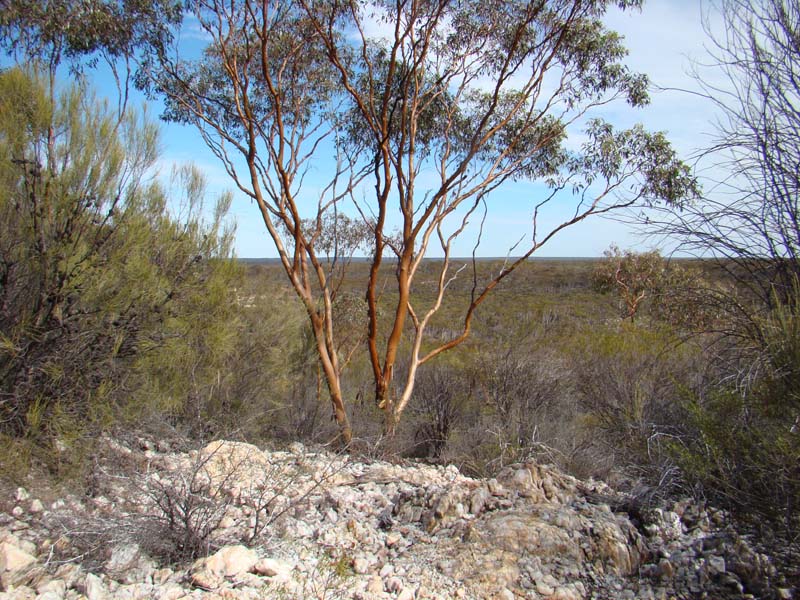 More views of the summit.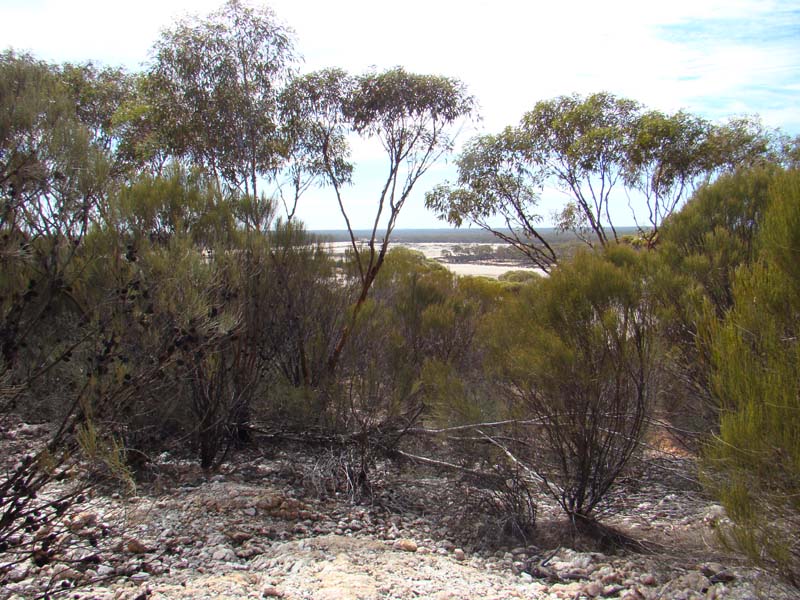 More views of the summit.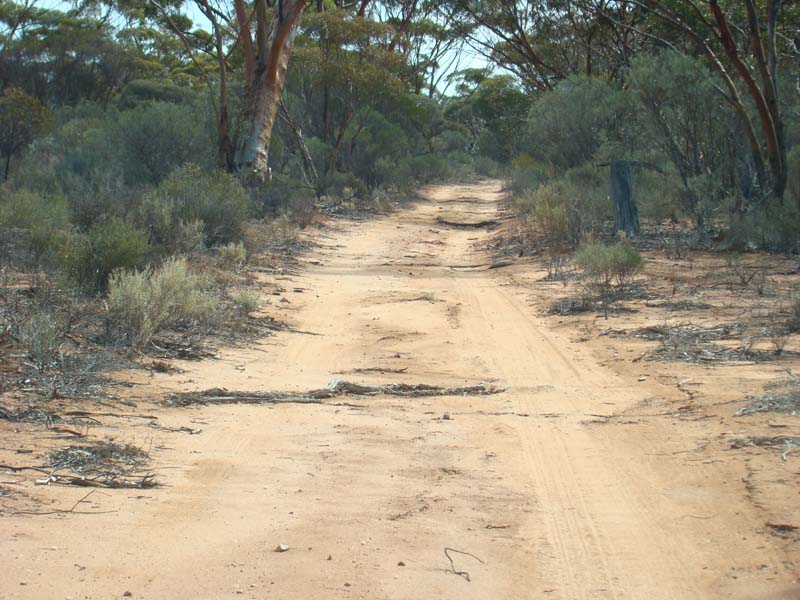 Some views of the track we followed.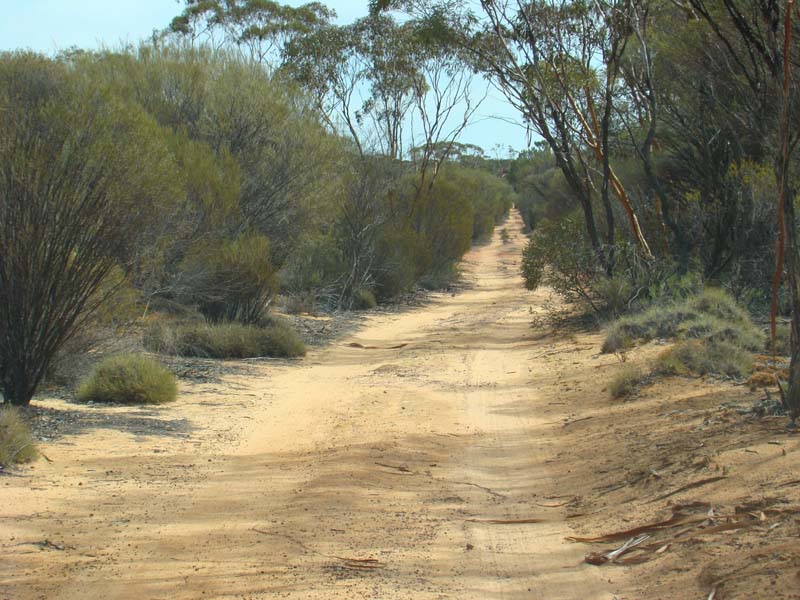 Some views of the track we followed.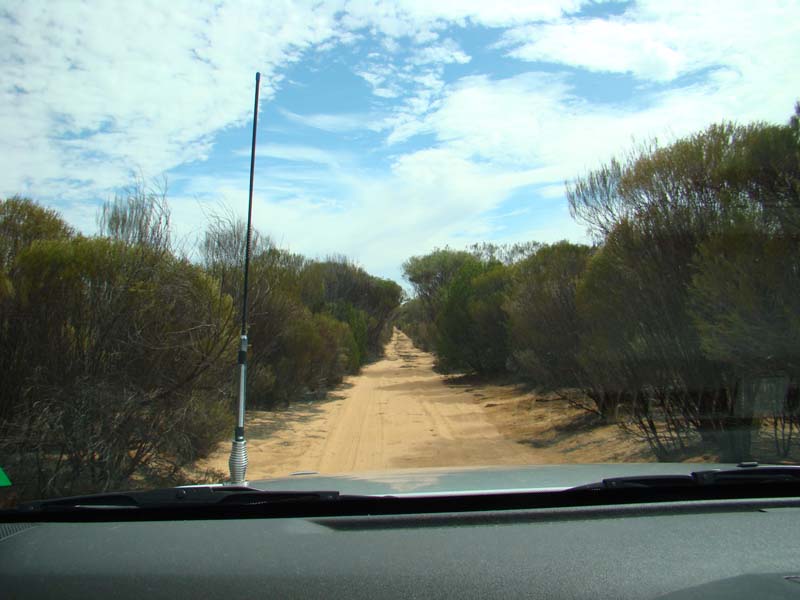 Some views of the track we followed.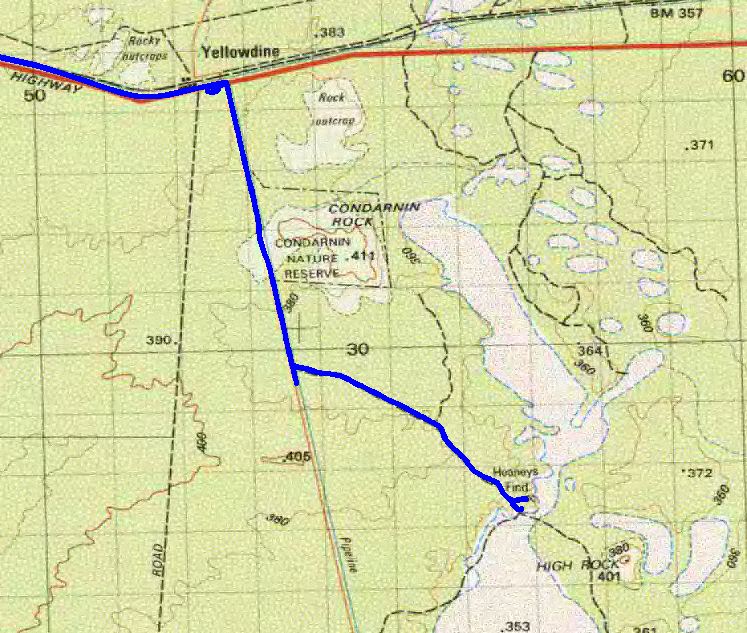 Quartz area is bottom right corner.
Heaney's Find Mine -31.359400 119.701357.