Frosty's Fossicking Frolics

Tom Price Printstone.
Weather: Started cold with clear blue sky. Stayed cloudless all day and reached about 25&degs. Beautiful. Same as yesterday and the day before.
Wind: Calm.
We set the alarm for 7am as we had to be at the Tom Price Visitor Centre by 9am to catch the Lestock Tour bus for the Tom Price Mine tour. Bob was the owner/driver, he talked non stop for over 90 minutes, he was brilliant. We left the Visitors Centre at 9am and drove along town and then through the various stages of Tom Price's building stages, as in 60s, 70s etc, then onto the Mine site. We drove pass the maintenance area and then upto the lookout, which showed the open cut and while there we saw many BIG dump trucks come and go down into the pit. Over to the conveyor belt area, showing where they sort the iron ore into various percentages, then past the train filling area. Each train has approx 240 trucks and upto 5 diesels pulling and pushing the trucks. It was a great tour and only $28 each, booked at the Visitor Centre.

Back at camp to make some lunch and then off to the Hamersley Ranges, to look for some Zebra Rock. It was 70kms from camp, 20kms along the sealed road, then 50 kms along a gravel road. We drove up a track and walked along a dried creekbed and found some pretty rocks, but I was here on a mission to find a chunk of 'Zebra Rock', so we parked closer to the mountain, here I packed my backpack with a pick, cold chisel (not the group) and a small sledge hammer and also a long handle spade and I set off on my journey for the 'holy grail', the first thing I noticed was the kangaroo about 20 feet away, looked at me and then just bounded away. First obstacle was a 20 foot high rocky ridge which I had to overcome to get to the next obstacle that was to climb about 100 meter up the side of a steep shaly hill. I was told roughly that the rock was 2/3 the way up the hill on the right hand side. So away I go and bugger me if I don't find some. There were 2 bits and then I dug up a 3rd bit measuring 19" long x 12" wide x 4" high, a decent chunk of rock, I reckon that it weighed about 30 kgs. It was too heavy for my back pack, so I carried it under one arm and my long handled spade in the other, and started to go down the mountain, well, hill anyway, on the way down I had to change arms many times, because the rock was bloody heavy. I finally made it back to Marg, who had taken photos of me on the mountain. Back at the mighty Navara, we admired my rock and then proceeded back to camp.

We arrived back at camp about 3pm and picked up David and Lenice as we were driving up to the summit of Mt Nameless which overlooks Tom Price, it is a 4WD access only and by Christ, I could see why, it was up and down the mountain in Low Range 1st and 2nd gears only. Shit, It was steep, but the mighty Navara took it in its stride, I don't know about its occupants. Got to the top and the views were stunning, drove down the hill, got back to camp and had some well deserved chilled refreshers, Thanks David, he gave me a couple for taking Lenice and himself with us.
Tomorrow, everyone is leaving us and it is our last day in Tom Price.
2 smaller rocks and a chip off the big one.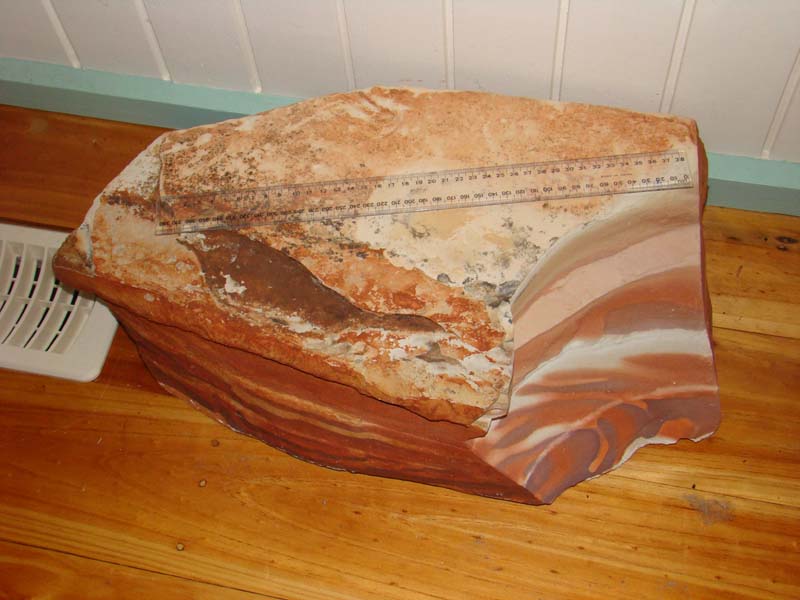 The printstone weighs about 18kgs.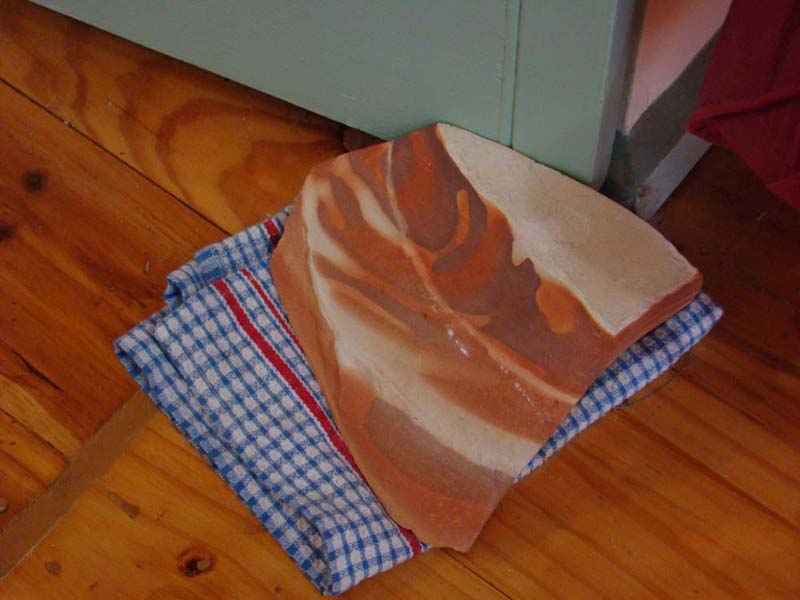 At home, this is the chip off the big rock.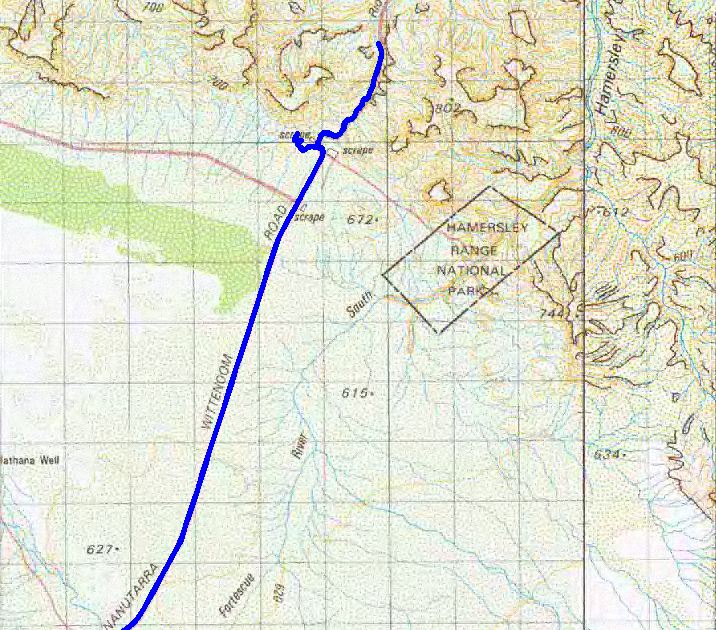 Print Stone area.
The location is -22.241048 117.958198