Frosty's Fossicking Frolics

Moonstone Hill - Moonstone
Chudleigh Park - Peridot.
Friday 15th June 2012
Fossicking at Moonstone Hill and Chudleigh park.
We woke about 6:15am, as we were leaving early for Moonstone Hill about 180kms north of Hughenden. The weather is 'the Norm' (cold, cloudless blue skies).
Marg made sangas for lunch and I packed the mighty Navara with all our fossicking tools.
We left camp at 7:50am and headed North along the Kennedy Development road approx 180kms to Moonstone Hill. Along the way, we past the Porcupine Gorge turnoff about 65kms from camp, we didn't stop as we wanted to get to Moonstone Hill, as we didn't know what to expect. We stopped a couple of times along the route, first was to watch a Wedge Tailed Eagle having breakfast on a dead roo, but as I was about to photograph him, he flew off, Bastard. The road varied from a good bitumen 2 way road to a single bitumen lane to a gravel road varying into degrees of roughness. When we were on the gravel road and you passed signs saying "Rough surfaces", they didn't lie and you DID slow down or suffer the consequences.
We arrived at the partly hidden gate (-19.519483,144.257285) (at 9:57am) that led into the Moonstone Hill fossicking area, the track to the other side of the hill was overgrown to say the least. As we drove along the track the grass was hitting the bonnet, it would have to be 3 feet high. The whole area was covered in this long grass, it really needed a bush fire to go through and burn all the grass, then the fossicking area would be a breeze to work in, but it was a bugger to work. We came to a clearing (-19.518398,144.262152) about 20 feet square where the grass was only a foot high. So we stopped and set up our chairs and I surveyed the hill side looking for diggings, we worked an old digging and got the moonstones that appear in the photos. The larger stones are probably big enough to be 'cut'. We decided that we had enough stones and we wanted to check out Chudleigh Park for Peridot. Before we left, I walked to the top of the hill, which maybe about 50 meters high so the views were spectacular. There was only a very small ridge, guess what, it was covered in 2 foot long grass. In the distance I noticed dust along the road, so I waited for the 'car' to get to me, well, the 'car' was a B triple cattle truck full of cattle, see photos. We packed up (at 12:12pm) and headed to the Chudleigh Park turnoff about 15kms back towards Hughenden.

The Chudleigh Park gemfields are 15kms off the 'main' road, through private property, some fossickers just lob and wonder why the owner gets pissed off, SO we rang the Chudleigh Park homestead the previous day and Sarah gave us permission to visit, it's not real rocket science to get approval, I don't understand why some don't. (End of rant).
The turnoff from the 'main road' is at (-19.653758,144.229463). When we arrived at the gemfields, there were 2 campers already setup, Joe an old dude who had been there for 10 days and has found and shown me, bugger all stones, and the other couple had been there 2 days and found a similiar amount. They both told us that we would be pushing shit uphill. We were. Our first obstacle was to drive across the creek, it was covered in rocks and sand, I checked it out and Joe showed me where he crossed and the other couple cross, so we gave it a go, well, we got to the other side, BUT NOT before I put a large dent and scratch on our side steps, as it crashed onto a rock. I continued on to the fossicking area along a goat track, when I parked and checked the damage, the mighty Navara had sustained a major dent and scratch. I was devastated, I was now worried about re-crossing the creek, so I was NOT really interested in fossicking, but we did stay a short time. To find peridot you have to dig into the hard ground and everything was covered in dirt and brownish, so it was extremely hard to find, as we were only staying an hour or so, it was near impossible for us. I stopped digging, as I was going nowhere and we checked out other fossickers' discarded digging piles, we found some Moonstone but no peridot, so we decided that peridot fossicking is not for us. We packed up and headed to the creek. This time I walked the creek and decided to give the rocks a miss and drive on the sand, it was an S shape path in the water. In low range 1st, I entered the water but couldn't turn enough to make the exit track, so I stopped in the middle of the creek and backed up a bit and ended up doing a 3 point turn in a creek that was probably 6" deep and flowing slowly. Anyway, we make it out under our own steam, thank God. We stopped and spoke to both campers and said our goodbyes.
We drove back through Chudleigh Park property, the views were stunning, we stopped and waited for the cattle to get off the track, opened and closed gates, it was fun just driving through various paddocks. We stopped for a smoko at the 'main' road before heading 161kms back to Hughenden. On our way back, I noticed something about a kilometer behind us in our dust and it was catching us fast, it was a truck, so I got onto Ch 40 on our UHF and spoke to the truckie and told him that we were pulling off the road, so he could pass us. He acknowledged us. We stopped, made sure all our windows were up tight and waited. Within a minute you could see the red dust rising as the truck approached and went by, it was another B triple cattle truck, so you can imagine the amount of that red dust it kicked up. We were covered in it on the outside, the inside was no prob. I was going to wash the mighty Navara yesterday, good decision that I didn't. After a couple of minutes the dust had died down and we continued on our way back to camp. The next strange sight was coming upon 3 drovers, droving a couple of hundred head of cattle along grasses beside the road, the rest of the drive was uneventful.

We were both buggered after our day out, we left at 7:50am and arrived home at 4:20pm, 8.5 hours, also drove 405kms, so it was a big day for us.
Click on Photo, to view our photos taken during our day's fossicking.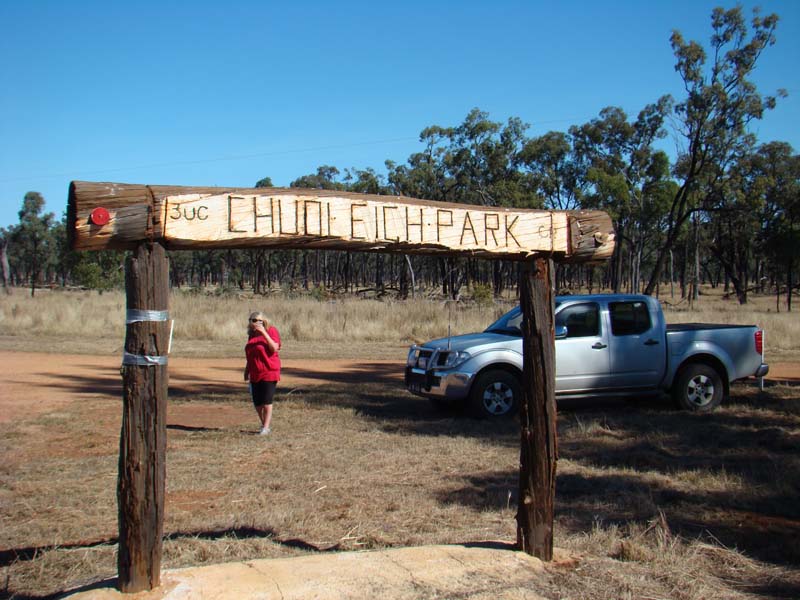 The sign on the Kennedy Development Road aka 'main' road.
The only gate that we had to open and close.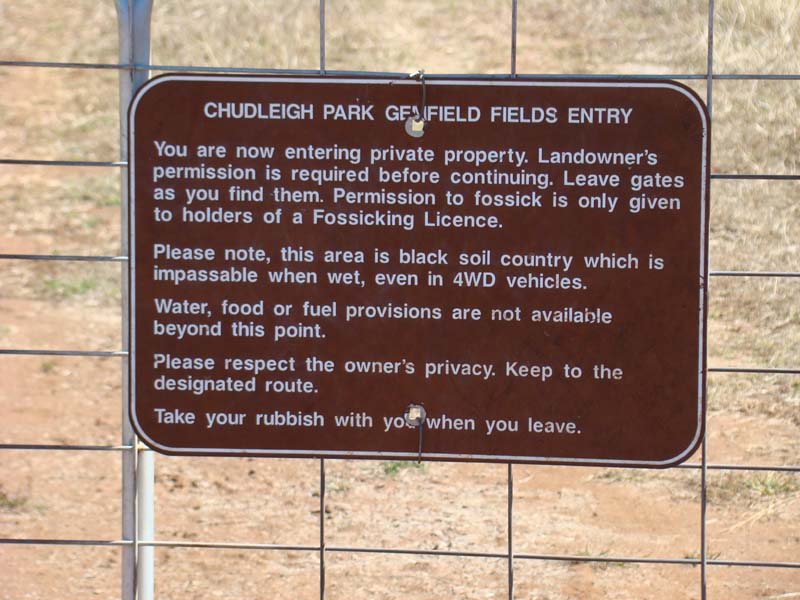 The sign on the gate.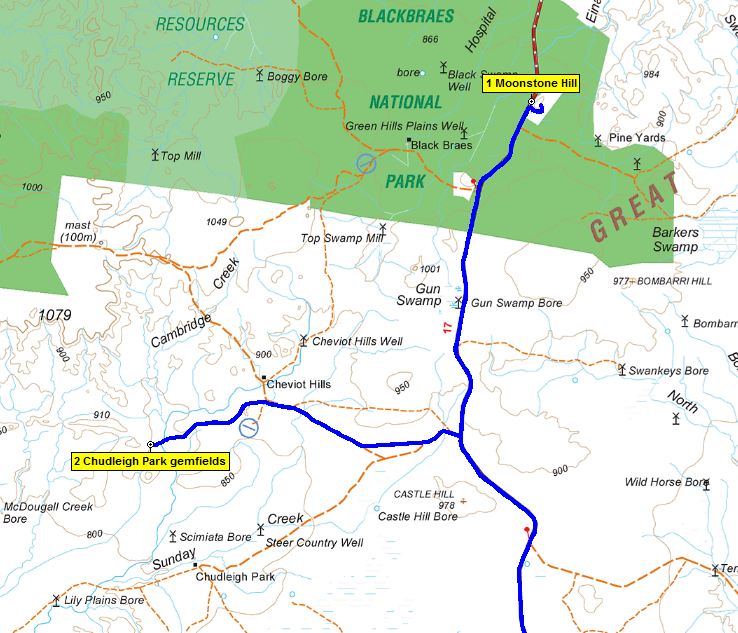 Moonstone Hill and Chudleigh Park gemfields.