Frosty's Fossicking Frolics

Kuridala Amethyst - Amethyst.
Sunday 10th June 2012
Fossicking at Kuridala Amethyst fields.
We left camp at 8:20am and headed out of town northwards towards Mt Isa, but turned left and headed south towards Malbon about 50kms away on bitumen road. At the Malbon turnoff we had 34kms of gravel road then 6kms of a rough goat track, which lead us to the Amethyst site. The first person to find Amethyst here has to be a lunatic, what would possess someone to dig a hole in the ground in the middle of nowhere, bloody miles of nothing, yet here we were digging holes and finding Amethyst. It is just amazing.
Anyway, we arrived at the site which is just a gully in the middle of nowhere after 6kms of the roughest 4WD track that we have driven. The mighty Navara didn't miss a beat, we were in 4WD High the whole way, parked in the shade and unpacked our fossicking gear. We, sorry I, carried our fossicking gear to an existing diggings and started to extend the existing hole, shortly after starting, I saw a small section of an amethyst crystal covered in dirt, so I dug it out and put it in our carry bag. We continued on fossicking for nearly 2 hours and ended up with a tub full of amethyst. We will post some photos of the rest of our find, when we get some time. Just before we left, another fossicker arrived and he was staying there for at least 2 nights, sleeping in his ute. It takes all types. We showed him our haul and he was impressed and said that my big crystal will probably be mostly clay holding the crystals together and when I wash it, it will probably fall apart. We left the site at 12:19pm and headed back along the goat track, we visited the old Kuridala Smelter and took scenery photos from the top of the slag heap.

As we turned right onto the Mt Isa-Cloncurry road, we saw at least 6 B Double transporters of the V8 Supercars heading towards Hidden Valley, Darwin for this weekend's rounds. Go Lowndesy.
Back at camp, the first thing I did was put the big amethyst in a bucket full of water and guess what, it was one bloody big chunk of amethyst, it was a solid bit, not numerous individual crystals, but numerous crystals stuck to a single chunk. We are more than happy.
Click on Photo, to view our photos taken during our visit to the Kuridala Amethyst area.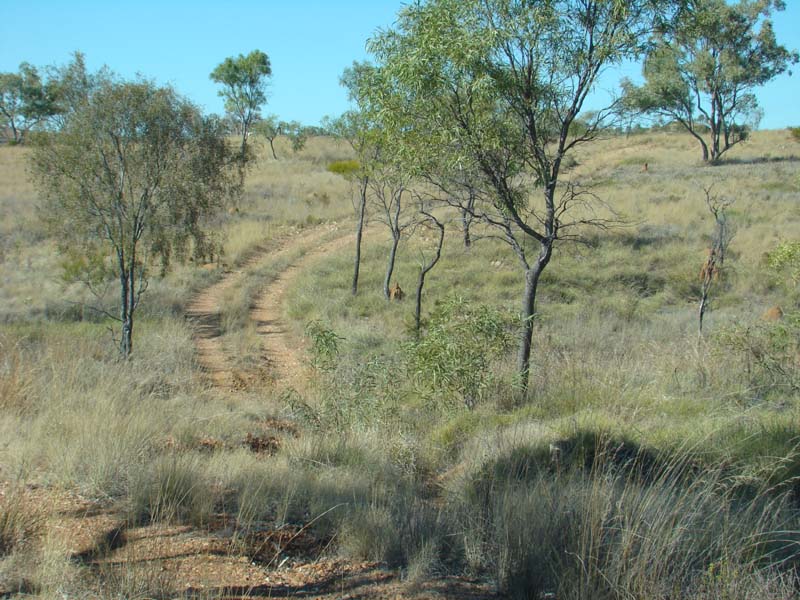 Heading towards the Amethyst gully.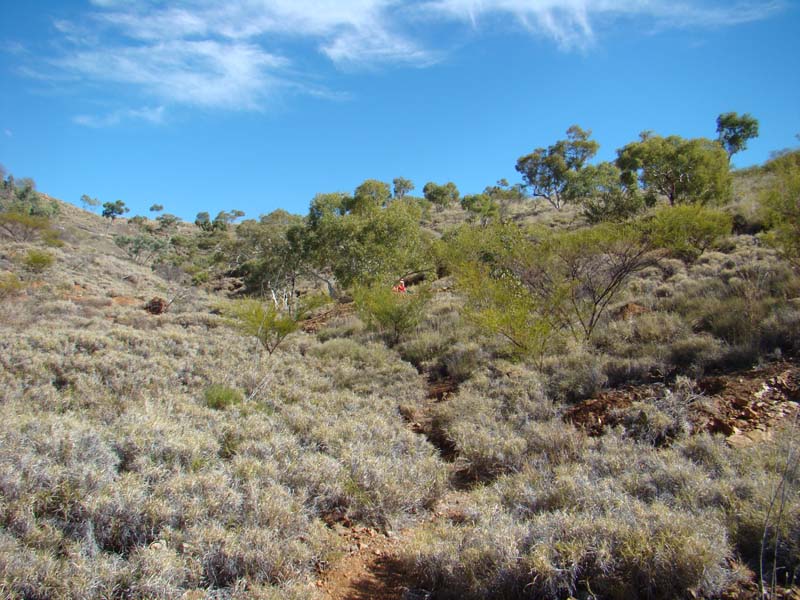 The fossicking area. Marg is hiding in the centre.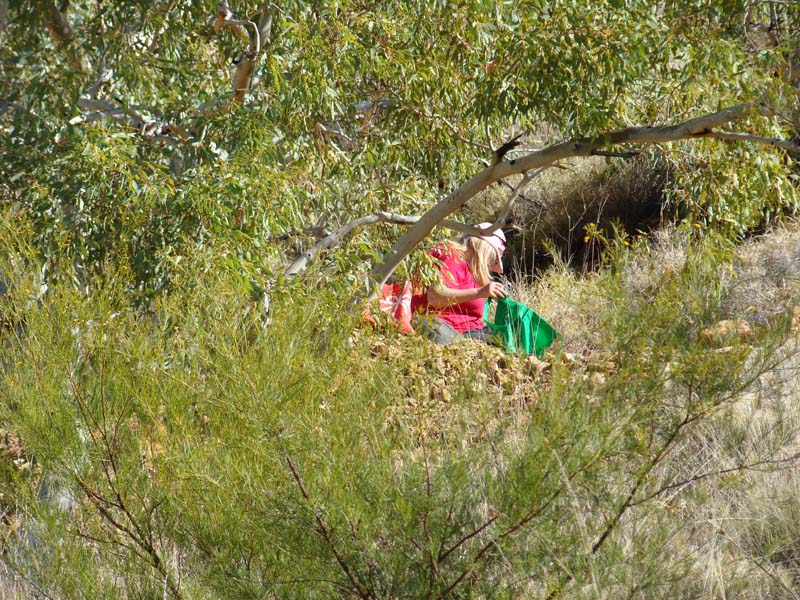 See, I didn't lie.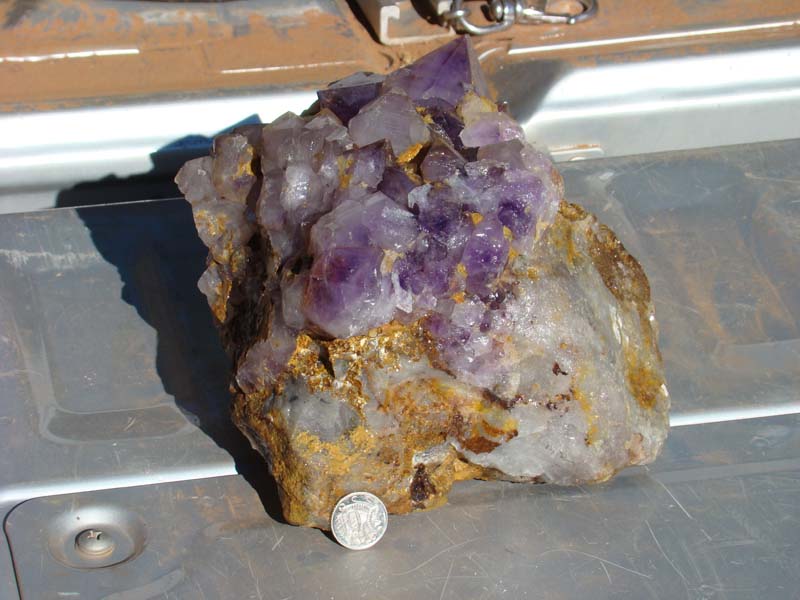 We are very happy with this.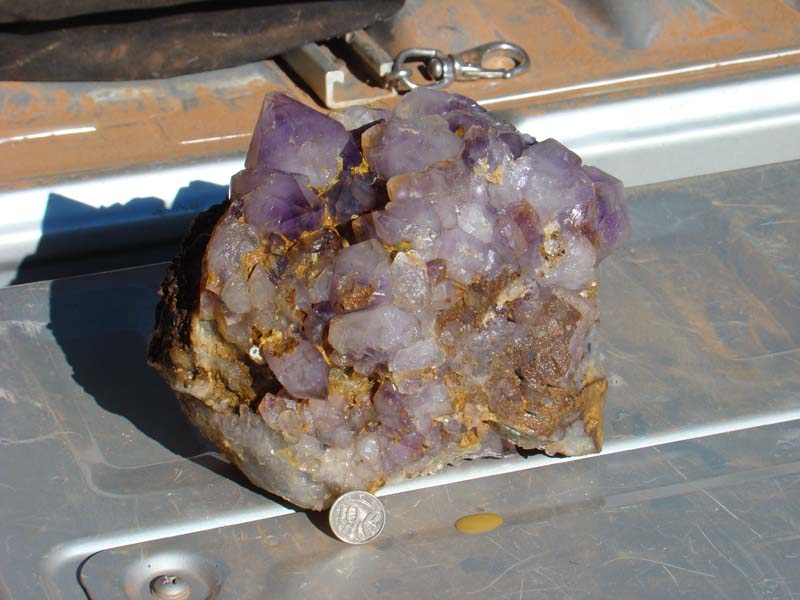 Check out the crystal - top left.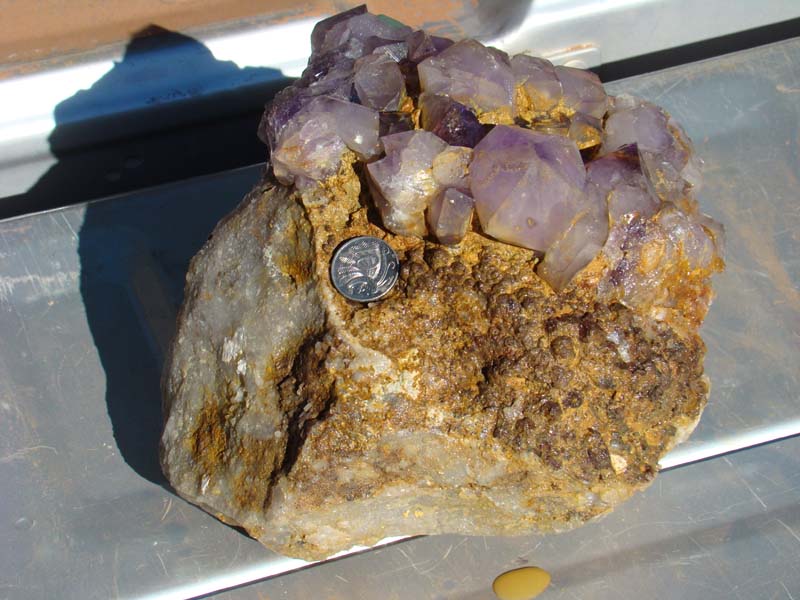 Check out the crystal - middle front - it's a ripper.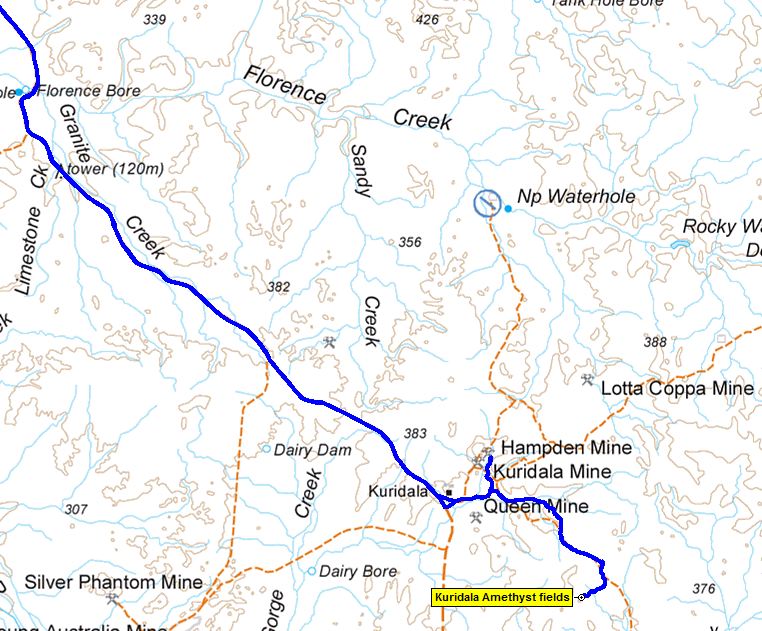 Kuridala Amethyst
Location (-21.316463,140.534218).