Frosty's Fossicking Frolics

Radium Hill Kyanite - Broken Hill.
Weather: Started warm and built to 29&deg and sunny all day. Min 12.6 Max 29.0&deg.
Wind: 10 - 35kph Northerly.
Before fossicking at Tikalina Station you need to obtain permission from the land owner.

We set the alarm for 6am, woke up, got up and onto the internet. Made lunch and meet Trev and his tag along group of Brian and Sharon from Port Macquarie, Ross (who was Trev's teacher), Graham and Glenis and of course, Trev. We had 3 4WDs in our convoy, Graham, Glenis, Ross and Trev in Graham's car, Brian and Sharon, and us. Graham led, Brian last and us in the middle. It was 92kms along the Barrier Hwy to the Tikalina Station, where we stopped and visited their museum of Radium Hill's past, it was very informative. We continued a further 20kms into the outback along tracks that weren't even tracks in some places. It was great fun driving. At this spot I found some Devil's dice and Kyanite blades, then we headed over to the large chunks of Kyanite a distance of 7.7kms away.
We parked and walked up a hill to the top where 'my chunk of Kyanite' was hiding. Trev found this piece a week or so ago and kept it for me, as I had emailed him saying that I would like a nice chunk. I reckon it weighs somewhere between 10 - 15kgs. I carried it back to our car and then went back up he hill to find some other bits. We had lunch back at the cars and then Graham, Glenis and Trev went off to another site, while the rest of us headed home, we were knackered. Only 109.8kms back to our Caravan Park, via Woollies and Maccas.

Back at camp, I washed all the rocks in water to try and remove the red dust, but most of it stayed on, so when we get home I will wash them in Oxalic acid, that should remove most of the 'crap'.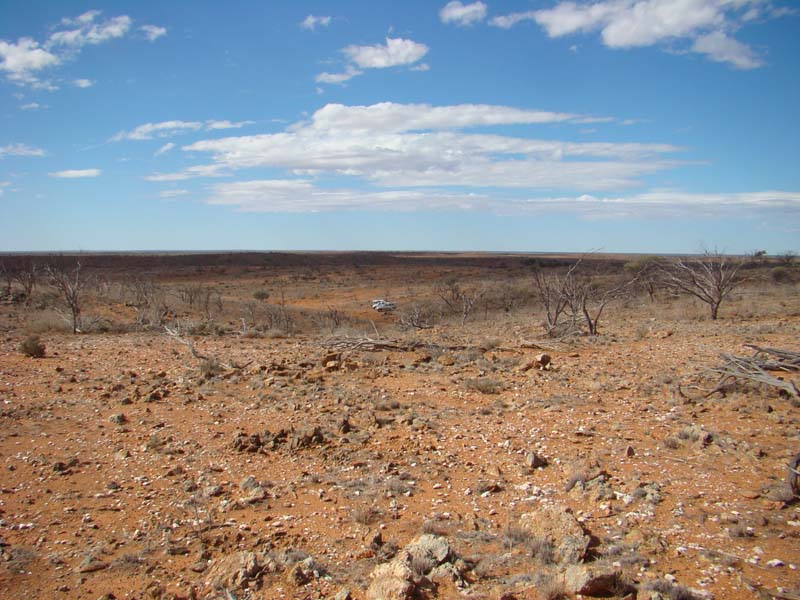 Our carpark...in the distance.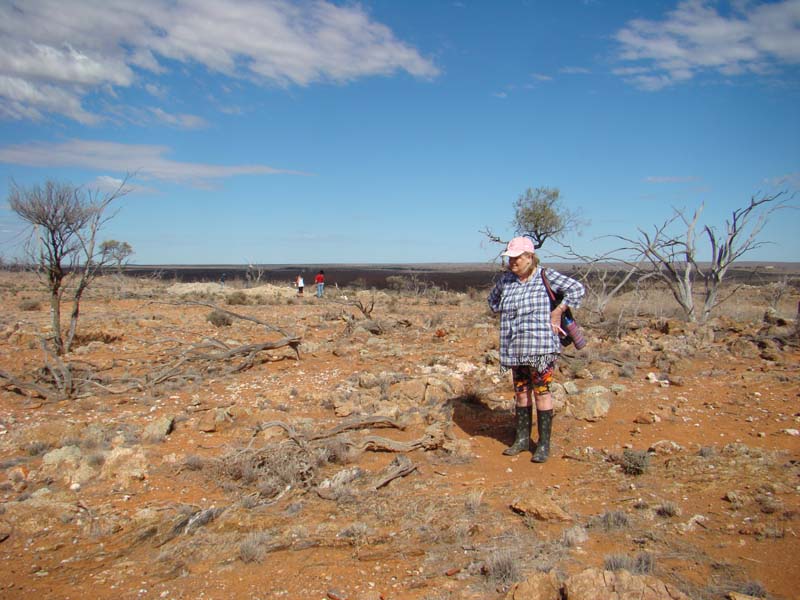 The Frosts are definitely fashion trendsetters in the fossicking world.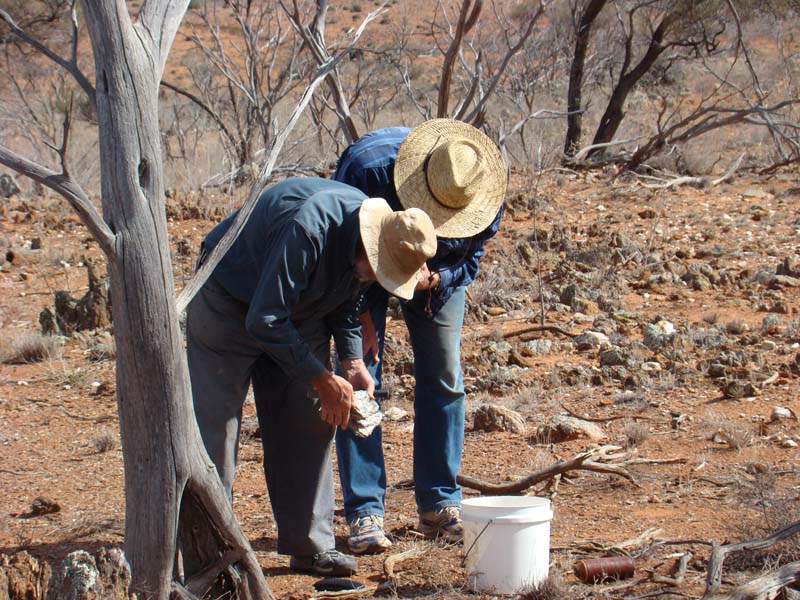 Ross showing me what to do.
My chunk of kyanite.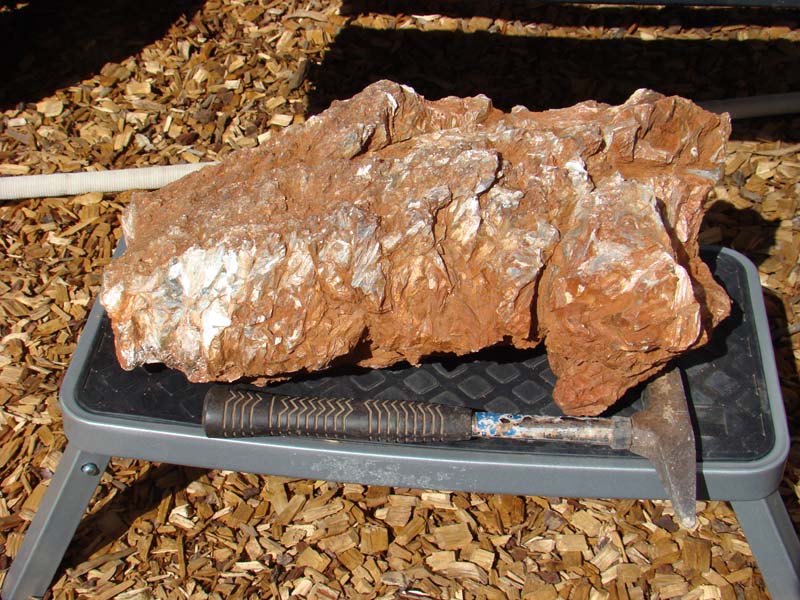 It was bloody heavy to carry back to the car.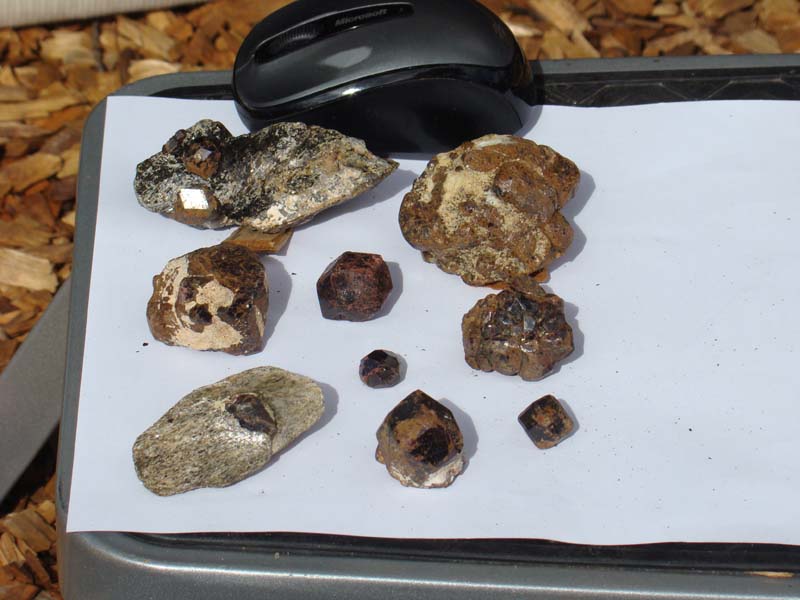 Some of Marg's favourite Devil's Dice.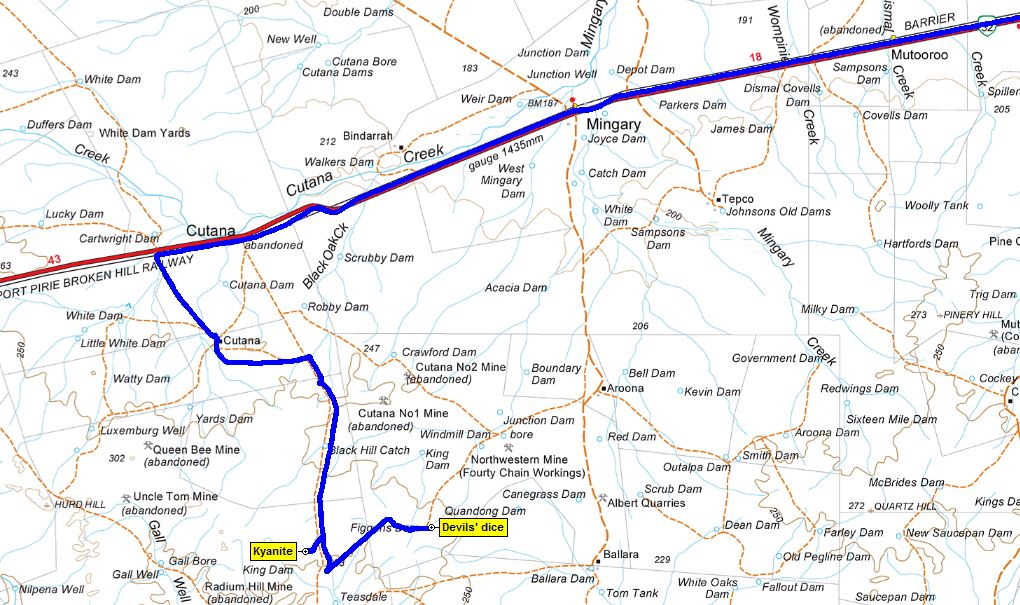 Kyanite location is S32.309335, E140.630675.